In this article I am going to explain how you can easily find good results through Google Search. Yes there are some search techniques available to find search results.
I came to know this in 2012, when I completed certification course with Google on Google Power Searching. There are lot of techniques available, though I am sharing only four tricks.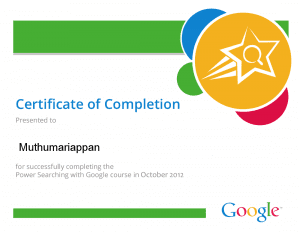 Exact Phrase Search
Put quotes around phrases. If you're looking for a phrase rather than a collection of words interspersed in the document, put quotes around your search query. Enclosing a query in quotes ensures that Google will match those words only if they occur within an exact phrase.
For example, a Digital Marketing Consultant in Chennai query returns many more (but less useful) results than "Digital Marketing Consultant in Chennai" would.
Site Specific Search
You can search within a website or a domain or subdirectory by adding the site: operator followed by a site's domain name to your query. For example, you could search for Top 10 SEO Providers in India 2018 but restrict your search to only pages within the insightssuccess.in site with a query of Top 10 SEO Providers in India 2018 site:insightssuccess.in
File Specific Search
You can restrict your search to Word documents, to Excel documents, to PDF files, or to PowerPoint files by adding filetype:doc, filetype:xls, filetype:pdf, or filetype:ppt respectively, to your search query.
Google allows any extension to be entered in conjunction with the filetype:operator, including html, txt, php, apk, asp, jsp, swf, etc. Google then matches on your desired extension after the filename in the URL. Note that there is no space after the colon when using this operator.
Example: Filetype:pdf Business Proposal or Filetype:pdf "Business Proposal"
Word in URL
Search for a word or phrase within the URL. Use the inurl: operator to restrict the search results to pages that contain a particular word in the web address. This can be especially useful if you want Google to display all the pages it has found within a particular directory on a particular site, such as inurl:digital.
Note: You can apply all these search format at the same time in a single search.
Enjoy Searching…